The 2021 Subaru Love Promise Community Commitment Award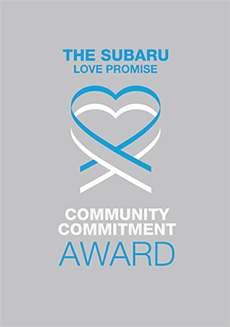 We've been nationally recognized for our dedication to our community and the Subaru Love Promise.
We're honored to receive the 2021 Subaru Love Promise Community Commitment Award. This award nationally recognizes Subaru retailers who are making the world a better place while demonstrating an outstanding commitment to supporting passions and causes in local communities. These efforts are focused in important areas such as the environment, community, health, education, and pets.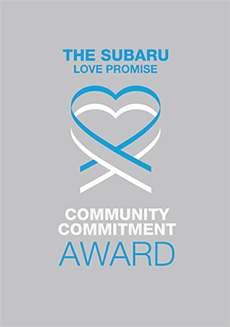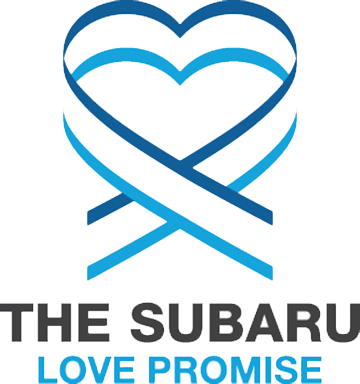 What is the Subaru Love Promise?
Subaru and our retailers believe in making the world a better place and the Subaru Love Promise is our vision of respecting all people. This is our commitment to show love and respect to our customers and to work to make a positive impact in the world.
How is Ourisman Subaru Waldorf dedicated locally to the Love Promise?
Our Love Promise can be seen in various partnerships with local charities and non-profits. We're grateful for the opportunity, not only to be a part of our community, but to serve it as well.
Last Chance Animal Rescue
The Leukemia & Lymphoma Society MD Chapter
Love Promise Stories from Ourisman Subaru Waldorf
Subaru and Ourisman Subaru Waldorf believe in making a positive impact on the communities in which we live and work. We uphold that belief through our Love Promise Community Commitment. Every month, we select inspiring stories from customers and partners from around our area who strive to support our collective commitment and feature them here
Knowledgeable Steve Page in Service - Bruce N
I had my Subaru into your dealership for service yesterday. I would like to acknowledge Steve Page for his professionalism, knowledge and sincere caring for each of your customers. Several times during my stay he came in to let me know what was being done and when I could expect to get my car. I noticed that he treated every person in the waiting room in a similar manner. When I got my car, I mentioned that I was having problems getting the maps from my phone to show up on my dash screen. Steve was knowledgeable about my problem and then spent a considerable amount of time working to resolve the issue. Throughout trying to resolve the problem, Steve explained what he was doing and why. It turned out to be a phone problem, not a car problem. I was very impressed with his knowledge and willingness to go the extra mile to take care of your customers. You have an excellent and exceptional employee in Steve Page. I hope he is there to greet me every time I return for service. Sincerely, Bruce Newell
---
We love cats and we love Subaru! - Nancy M
We purchased our Subaru Outback from Ourisman Subaru Waldorf and we love our new vehicle! We were also very happy to find out that there was a wonderful program called Subaru Loves Pets that donates to and helps local animal rescues. I am a veterinarian and support animal rescue. I assist many local rescues and chose the donation from my car purchase to go to Rescue Angels of Southern Maryland. Thank you for offering such an amazing program and helping our local homeless animals and the rescues that help them! Dr. Nancy McGuire, DVM
---
Thank you to Ourisman Subaru Waldorf! - Jennifer T
We at Rescue Angels of Southern Maryland are very appreciative of the nomination of our supporters and the partnership we have with Ourisman Subaru Waldorf to make a difference in homeless animals' lives. Through the Subaru Love Promise, we are able to work together to help educate our community on animal rescue and the benefits of pet ownership, and also promote Subaru vehicle ownership. One of our volunteers quickly went to Ourisman Subaru Waldorf to purchase their new Outback once they learned of our partnership. Thank you, and we encourage all of you to adopt, foster, donate, and volunteer! We also encourage you to check out Ourisman Subaru Waldorf and know that your purchase will also help homeless animals and the rescues that save their lives.
---
Love my 2019 Outback - Mala T
I bought an Outback wagon from Ourisman because I wanted a reliable vehicle to transport cats in traps. I have partnered with Rescue Angels to place feral cats in good barn homes. I am so happy Ourisman supports local causes that rescue feral cats, like Rescue Angels of Southern Maryland.
---
Exceptional personal service - Sally R
I was in the middle of having my Forrester serviced, when I got a call that my nephew had unexpectedly passed away. The Waldorf Subaru service team finished my vehicle in no time, so I could rush to my brother's side. So uplifting to have businesses that care about customers as people.
---
Subaru Loves the Earth Story - Laura T
A few months ago we had the pleasure to work with a wonderful customer and conservationist named Laura. We were happy to assist in getting her new Subaru Outback. Laura spends her time and effort saving and protecting all of the wonderful bird and animal species native to southern Maryland. She also uses her Outback to travel the area educating children about the local wildlife, even giving them the chance to experience them up close. On one of her recent outings, she stopped by the dealership with a wildlife friend for us to meet. She brought a local Owl rescue in her care that she uses when teaching the children. Only at Subaru would one get to experience such a beautiful animal up close. We are always happy to provide our local environmental soldiers with the most reliable vehicles to undertake the job of saving our planet. Thanks to her Subaru Outback Laura can safely and comfortably transport the animals for her work; and thanks to her, we were able to experience the amazing wildlife of our local area.
---
Ourisman Subaru Loves Pets - Lloyd K
So I have been involved with Subaru the majority of my life it feels like being the only car brand my family has ever owned. Ourisman Subaru in Waldorf MD particularly has been my home for the past 4 years now. I could not imagine working or doing business any other place. Ourisman Subaru is involved with a local animal shelter (Last Chance Animal Shelter in Waldorf) and every year during the Subaru Loves Pets month, they stop by with a few potential pets for adoption. My wife and I already have two yorkies but were planning on getting another rescue. Last Chance came with one of the cutest black labs we had ever seen and my wife knew right away that he was the one. Ourisman Subaru Waldorf was gracious enough to help with the adoption fees and without Ourisman and Subaru I am sure we would not of found the new addition to our home.
---
Ourisman Delivers Warmth to Cancer Patients - Jillian J
On Wednesday, July 24th, The Leukemia & Lymphoma Society's (LLS) Maryland Chapter and Ourisman Subaru Waldorf had the pleasure of delivering 80 blankets to the Chesapeake Potomac Regional Cancer Center as part of the Subaru Loves To Care program. These comforting gifts were accompanied by personalized messages of hope written by the customers and staff of Ourisman Subaru of Waldorf. Representatives from Ourisman Subaru, the Chesapeake Potomac Regional Cancer Center in Waldorf, and the Maryland Chapter of The Leukemia & Lymphoma Society were all present during the blanket delivery. Special guests and LLS Volunteers, Dr. Jyoti Shah and her son, Saar Shah, were present for the delivery. Saar was the 2018 National Student of The Year winner, raising over $413,000 for the LLS mission!This incredible act of generosity was warmly received by the Chesapeake Cancer Center staff, who were thrilled to distribute these comforting blankets to their patients at both their Waldorf and Charlotte Hall locations. Many thanks to everyone at Amanda Sisk at Ourisman Subaru and the Chesapeake Potomac Regional Cancer Center, not only for a memorable day, but for supporting LLS's mission to cure blood cancers and improve the quality of life of patients and their families.
---
Last Chance Animal Rescue Adoption & Donations Day - AMANDA S
Through the generosity of our customers and staff, Ourisman Subaru was able to collect and donate blankets, canned and dry food, and toys to the Last Chance Animal Rescue, our Hometown Charity. Applications for fostering and adoptions were collected, and we hope some of these playful pups find them forever home! The puppies had a lovely day running around the showroom and brought smiles to staff and customers alike!
---